Chicago Crystal and Pearl Pattered Long Double Layer Veil
£120.00
Description
The Chicago veil is a timelessly elegant Cathedral length veil featuring an intricately beaded pattern. This veil has classically elegant and chic styling. Made using the finest extra sheer tulle and hand stitched to a flexible metal comb to provide a high quality way of attaching to any hairstyle with ease and comfort. A double layer veil, featuring an integrated blusher (it is all one piece of oval fabric folded to create a beautiful effect of a double layer veil cascading over the shoulders called an Angel cut) and edged with a a pretty pattern made up of tiny pearlised and seed beads. The individual layer lengths being, the shorter blusher layer 30″ and the longer layer 108″ (width 72″). Available in Ivory or White, please select from the dropbar. Each veil comes beautifully packaged in our luxury veil box to keep it looking it's best.
Used to create this design...
Soft Sheer Tulle
Our veils are created using a special extra sheer soft cotton tulle. This ensures that the veil is comfortable and hangs perfectly as well as having a high visibility through the tulle.  The tulle is hand gathered and hand stitched to create the perfect amount of pleating at the comb and is available in either a bright white or a soft ivory.
Seed Pearl Beads
Tiny, dainty pearlised beads, made using a traditional process for the highest quality natural lustre synthetic pearls to give the right colour tone and sheen as natural seed beads. Tiny seed beads have been used throughout history for delicate jewellery and clothing decoration.
Foil Lined Seed Beads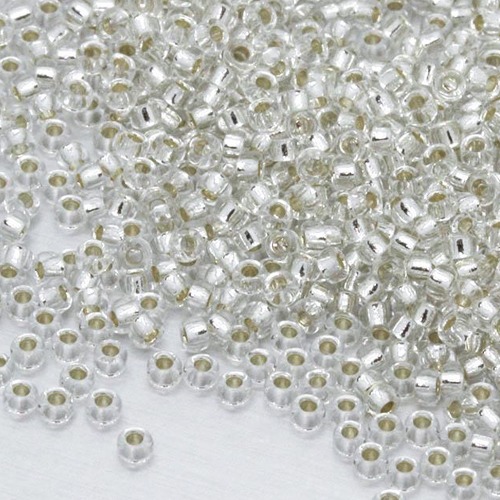 Seed beads were first created centuries ago in both Egypt and India, but were perfected by the Italian in the Murano glass discipline in Venice in the 18th Century.  Tiny pieces of silver leaf are encased in a delicate glass shell to give a sparking silver effect.  We use the highest grade of silver lined beads for added glistening effect when moving in the light.