Cinnamon Rose Crystal and Opalescent Fairytale Hair Vine
£185.00
Description
Cinnamon Rose is a beautiful and very versatile hairvine. Solitaire and opalescent crystals, ivory pearls and dainty hand enamelled flowers are interwoven in a special flexible metal to allow for comfort. This delicate and stunning piece can be worn in a long plait, around a bun or over the forehead for a more bohemian look and suits most up or down hairstyles. This headpiece is ideal for barn, woodland, garden or beach weddings. Plated in 14ct Rose Gold and measuring 6cm at the widest point and 60cm long . Set with genuine Austrian Crystals cut with facets to look like real diamonds, Opalescent Beads, real Freshwater Pearls and featuring hand enamelled elements. Each item comes beautifully packaged in our luxury designer boxes to keep it looking it's best.
Used to create this design...
14k Rose Gold Plating
Rose Gold is a beautiful and striking precious metal, produced by mixing an alloy of gold with copper for a blush rosy tint.  Originally this became fashionable around the turn of the 19th century, particularly in Russia.  Recent years has seen a huge resurgence of the popularity of Rose Gold and we use it to plate many of our tiaras, accessories and pieces of jewellery.  These are particularly popular with brides opting to wear blush or warmer toned wedding dresses.
Rose Gold Enamel Work
We use the ancient art of enamelling in many of our accessories, especially those featuring flowers and leaves for added depth and artistry.  Opaque, blush enamel fondant is hand painted onto each Rose Gold element to create a matt or satin effect instead of a high shine metal finish.  This helps to create a more delicate final appearance.  All enamelling is done by hand using traditional methods.
Austrian Cut Crystals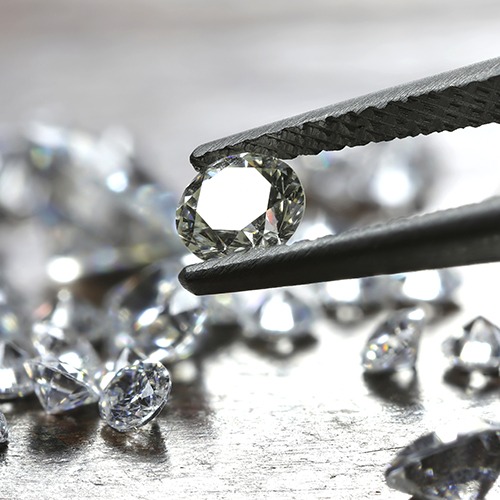 Austria leads the world in the production of precision-cut crystals.  They are made using a mixture of quartz sand and natural minerals and are cut with sophisticated machinery to ensure the highest shine and sparkle. These are cut with facets to sparkle like a real diamond. Traditonally crystals have been cut to imitate diamonds since the 18th century and the productions methods today are highly skilled for a flawless final finish.
Austrian Cut Crystal Beads
These are produced with the same high quality materials used to produce crystals which look like diamonds.  The only difference is the cutting method to create perfect light refraction.  Sharp cutting and many more facets produces the traditional bead shape with irresistible sparkle. Ours go through a strict cutting method as the more facets cut, the more brilliance.
Opalescent Crystals
These are created in the same way as Austrian crystals but are unique in their reflection of iridescent light.  They are semi opaque with a milky appearance and flashes of blue light like an opal. Accessories featuring these opalescents crystals and crystal cut beads are so popular due to becoming the "something blue" in bridal traditions.